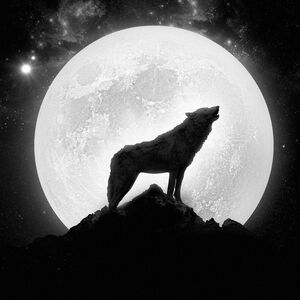 One of the two notorious mutations of humanity. Werewolves pass on a magical disease and curse known as lycanthropy to other humans which causes their kind to grow in number. A werewolf is a perfectly normal person any time that they aren't exposed to moonlight. That is except for their enhanced senses and reflexes. When the moon rises however, they increase in strength, agility, and durability. The fullness of the moon will determine how much they transform, and the more they transform, the more they lose themselves. A half moon for example would grant a half-man / half wolf appearance and the werewolf would retain half of their sanity. A full moon would remove all sanity and complete the transformation into a large direwolf. A werewolf cannot use magic of their own, but they can use enchantments and artifacts. Werewolves keep careful watch over the lunar cycle and most try to avoid going out under a full moon.
Physical Characteristics
Edit
Height, Weight, Shape, Color, Sexual Dimorphism, Aging, and prominent features. Physical capacities too, activities that they excel in, feats of strength/speed/agility,
Behavior and Psychology
Edit
Common behavioral patterns, mannerisms, personality traits, fundamental beliefs, etc.
Society and Relations
Edit
__ASDF__
Habitat and Locations
Edit
__ASDF__
Magical Inclinations
Edit
__ASDF__
Variations
Edit
__ASDF__
__ASDF__
Racial Relations
Edit
__ASDF__
__ASDF__
__ASDF__
__ASDF__
__ASDF__
__ASDF__
__ASDF__
__ASDF__
__ASDF__
__ASDF__
__ASDF__
A werewolf's transformation will depend on the moon itself. No moon means no transformation, and a full moon means the total transformation into a dire wolf. A half moon means a halfway state, and the rest can be figured out fairly easily.