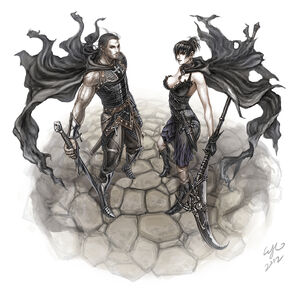 Within the world of Teilequin, there is no race more ambitious than the humans. Despite their relatively short life spans, or maybe because of it, they are the fastest growing race and have left significant marks on the pages of history. They are adaptable and diverse, and can vary greatly depending on their climate, culture, and exposure to the other races. As individuals they are resistant to change, but they are capable of adjusting themselves as needed to various situations. While they lack any special powers or abilities that are unique to them, they also lack any clear weaknesses. Their capacity to excel in any path of their choosing is perhaps their most dangerous quality.
It should be mentioned that there exists two particularly notorious mutations of humanity; the Vampires and the Werewolves. Considered to be monsters by many, these mutations grant Humans power beyond their kin.
Physical Characteristics
Edit
Height, Weight, Shape, Color, Sexual Dimorphism, Aging, and prominent features. Physical capacities too, activities that they excel in, feats of strength/speed/agility,
Behavior and Psychology
Edit
Common behavioral patterns, mannerisms, personality traits, fundamental beliefs, etc.
Society and Relations
Edit
__ASDF___
Habitat and Locations
Edit
__ASDF__
Magical Inclinations
Edit
__ASDF__
Variations
Edit
__ASDF__
__ASDF__
Racial Relations
Edit
__ASDF__
__ASDF__
__ASDF__
__ASDF__
__ASDF__
__ASDF__
__ASDF__
__ASDF__
__ASDF__
__ASDF__
__ASDF__