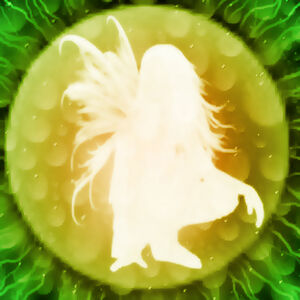 It is from the lingering souls of children who died an unclean death that the Fae are formed. Sometimes called Faeries, these creatures will never grow more than ten inches (25cm). They are tiny parodies of whatever race they originated from and have no memories of their former lives. At an indeterminate point in their lives, they will form a chrysalis and stay within it for a year. If they manage to survive the year, they are born anew with wings that grant them additional mobility. Non-winged Fae lack any sense of maturity, while winged Fae have a superficial sense of it. Regardless, both varieties feed off of the emotions of others. The benevolence/malevolence of such an act depends entirely on the individual Fae's disposition. It is almost impossible to tell what a Fae will do next, their actions are chaotic and spontaneous. They like to play "games" with others and typically see their own lives as one big game.
Physical Characteristics
Edit
Height, Weight, Shape, Color, Sexual Dimorphism, Aging, and prominent features. Physical capacities too, activities that they excel in, feats of strength/speed/agility,
Behavior and Psychology
Edit
Common behavioral patterns, mannerisms, personality traits, fundamental beliefs, etc.
Society and Relations
Edit
__ASDF__
Habitat and Locations
Edit
__ASDF__
Magical Inclinations
Edit
__ASDF__
Variations
Edit
__ASDF__
__ASDF__
Racial Relations
Edit
__ASDF__
__ASDF__
__ASDF__
__ASDF__
__ASDF__
__ASDF__
__ASDF__
__ASDF__
__ASDF__
__ASDF__
__ASDF__